Fact: All shipping solutions cost money. You might be paying via an upfront monthly fee, or you might be paying extra cents per shipping label. With some shipping solutions, you could be paying for both! The important thing is to understand is that with the correct UI for your business level, the extra money you are investing in a solution will save your bottom line in future.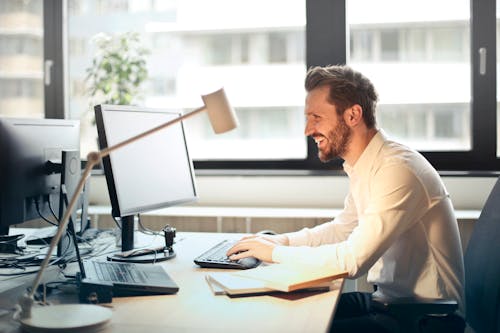 When you work with a shipping solution, you receive access to negotiated rates and time-saving features like batch rate-shopping. Gone are the days of individually comparing shipping prices for each parcel. Not only are they saving you time, but by utilizing solutions that have a deep understanding of the ecommerce space and connections with industry-leading partners, they are most likely saving you more money than you would have been able to save yourself.
We cannot speak for other shipping solutions, we realize that, but we can give you a firsthand example of how you save money using DesktopShipper. Below is a hypothetical breakdown of yearly shipping costs utilizing our Medium tier price-point.**
Starting at $75 per month, the Medium tier offers the ability to ship up to 1500 packages per month - or 18,000 packages per year. Though we offer a wide range of savings, we will be calculating the maximum packages per year by an average ground shipping price of $13.00, with an estimated discount of 5%.
Without a Shipping Solution

With DesktopShipper

Number of Packages Shipped Per Year

18000

Cost Per Parcel

$13.00

$12.35 (after 5%** discount)

Yearly UI fee

$0

$900

Total Cost

$234,000 per year

$222,300 per year

Final Yearly Savings

$0

$10,800
** This example is for illustration purposes only and is based off average cross-country rates for shipping two adult-sized shirts in a medium parcel via ground shipping (USPS, UPS, FedEx). Depending on the carrier, seasonality, dimensional weight, package weight, items delivered, and a number of other variables, shipping costs can vary. To learn more about DesktopShipper's current prices and savings rates, please reach out to a member of our team HERE.
Even with an upfront cost of $900 ($75/mo), by utilizing a shipping solution, $10,800 could have been saved on shipping in a single year. These calculations don't even include the number of paid hours saved by streamlining your shipping process. You are shipping faster, more efficiently, with less errors. Don't stick to individually processing every single parcel separately. Save your money and save your time by signing up DesktopShipper today.