This time of year often brings on reflection, resolutions, and is a time that many set goals for the new year. If growing your business is one of your goals, we have compiled a list of some great reads to help! Books can be a great way to gain a new perspective or information. They can also be a free way to educate yourself (check these books out from your local library). You don't always need a how-to book on investing or balancing your accounts receivable. Many times listening to others failures or success stories are the best way to learn about changes you can make to your own business. The list below may not hold all the traditional, "get rich quick" kind of books but they are the books you'll definitely want to be creative within your business.
Work Party, Jaclyn Johnson

Equal parts memoir and be-your-own-boss how-to guide, this book is perfect for all current or wannabe female entrepreneurs. Whether you want to learn how to navigate job interviews, salary negotiations, starting a business, selling a business, failing in business, suing a business partner, and picking yourself back up to create an empire. Johnson lays everything on the table and continues to educate women within business, with her current business, Create and Cultivate. This book is all about enjoying your work life and doing the things you love! Do not miss out on this one.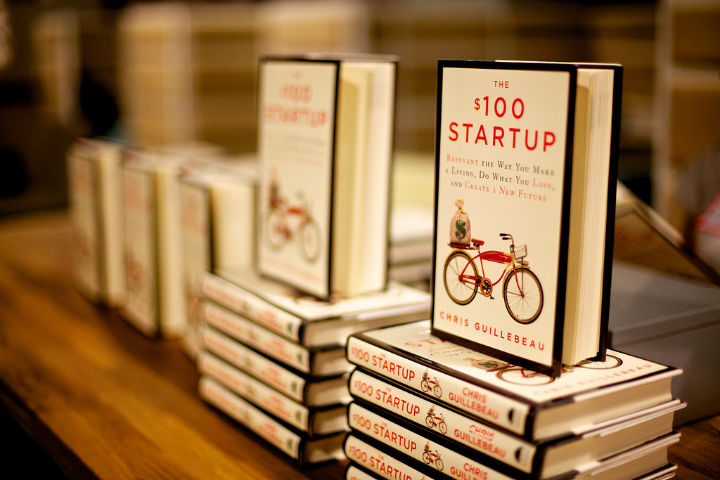 $100 Startup, Chris Guillebeau
Guillebeau writes a great book for all those entrepreneurs who are looking to work for themselves without having to invest a lot of their own capital. It is a great book for those who are stuck on what kind of business to start and overall, how to automate your business for a better work/life balance. Guillebeau speaks to multiple business owners and talks openly about failure and trying until things stick. It is a really and honest representation of entrepreneurship. It is not just for new business owners and can help you figure out new ways to keep overhead low in your current business.
Atomic Habits, James Clear
While this book is not traditionally a business book, it has all the things you need when you are an entrepreneur. This book teaches you actionable and realistic steps to start living the life that you want or need. Atomic habits, means small steps to create big results. This book helps you realize that you cannot just wake up one day and be ready to change your whole life, it never works. Clear speaks to the ideas that you can use this in your personal or professional life to get the results that you need. Though this book is more of a self-help book it is really a great way to learn strategies to get more time to do what you want to do.
How to Win Friends and Influence People, Dale Carnegie
This book is a classic. If you have not heard of this book then you are probably under 30. "How to Win Friends and Influence People," is a classic, how-to book. Carnegie speaks to human behavior and how to negotiate with people without feeling icky or leave making enemies. It is less about how to make friends and more about how to work with others in a healthy and meaningful way. This book is great for those who are looking to gain knowledge on human behavior and know how to leverage this knowledge in all aspects of your life.
Daring Greatly, Brene Brown
Welcome to the magical world of shame. Dr. Brene Brown is a shame and vulnerability expert who takes her audience on a journey of human behavior. She explains why people react a certain way and why we should empathize with people in order to understand human behavior. If you have been in business for a while, then you know that most of business is just working with humans. This book is great for anyone who wants to learn more and understand humans as best as possible.
The Secret Thoughts of Successful Women… Valerie Young
Valerie Young writes a great book about imposter syndrome. Imposter syndrome is described as, a psychological pattern in which an individual doubts their skills, talents or accomplishments and has a persistent internalized fear of being exposed as a "fraud." Though much of the book is targeted around women and the fact that women feel that more than men, she does lay claim to the fact that all genders can feel this way. Young interviews business owners and CEO's about how they feel like they do not deserve the job that they have. This book takes you into the minds of some of the smartest people in multiple industries who still feel less than. It is a great book for anyone who has never felt worthy of their professional life or just want to learn about how everyone goes through lows.
Even though all these books are not traditionally "business" books, they are more than worthy of your time. If you know anything about business, you know that no one takes the same path twice. Don't try to be the next Bill Gates, be the first YOU! You must be creative in your business or entrepreneurial journey to order to be successful. Do not be afraid to step outside the box.